Tue 14 Feb 2006
When I first decided to build a new layout I considered a shelf type plan. "Shelf" layouts have become popular for several reasons. They tend to maximize mainline length while avoiding being able to see too many adjacent runs of track. Shelf layouts were probably a direct and strong swing away from layout designs known as "spagetti bowls." Operations oriented model railroaders — those for whom operating trains in a prototypical fashion is most important — have increasingly turned to shelf style layouts. Many layout builders also stack shelves with two or even three levels being common.
Interestingly, John Allen was a huge fan of operation and yet his layouts were firmly in the NOT a shelf, "bowl of spagetti" camp.
For my available space I initially planned a shelf layout with loops at either end and two levels at one end.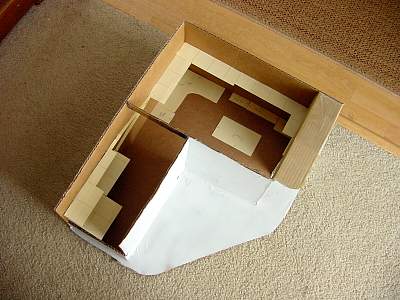 As you can see I made a 1" = 1' scale model of the room and my layout idea. The Layout is roughed out in classic "Armstrong" squares and blobs. Squares and Blobs refer to a technique the late John Armstrong popularized to rough out the mainline location and space requirements of a layout for a given space.
The track height would be rather high: 53.5 inches above the floor because I like the trains near eye level and this was the height of an existing shelf in the closet onto which I would flow the layout. In my planning model, the pieces of paper on the floor represent pieces of furniture that would be under the layout. In some cases they are bookcases that the layout would have gone through.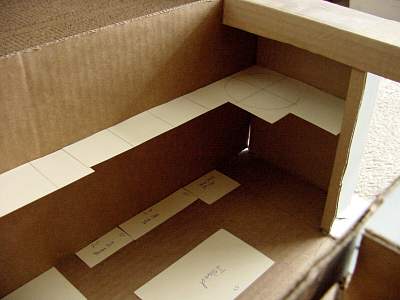 In the closet would be one loop and one terminal (above). At the other end (below) the layout would split into two levels with a loop on the lower level.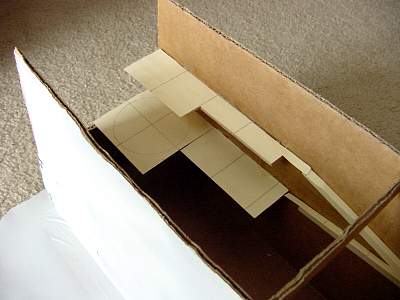 This plan had maximum mainline length – almost two scale miles. Huge yard area and would have presented good operational complexity.
However, I am so glad I made this simple cardboard model because once I did, I realized I hated this plan.
For me the biggest problem with this design was that there would be no immersive scenery experience. I knew that in photographs this layout would only look good when you looked at it focused on small scenes. Any long views would glaringly show that this was a shelf running around a room with trains on it.
This was the tipping point. I had been dreaming of building a version of Malcolm Furlow's San Juan Central (SJC) for almost 20 years so I figured I'd see how that would fit into my space.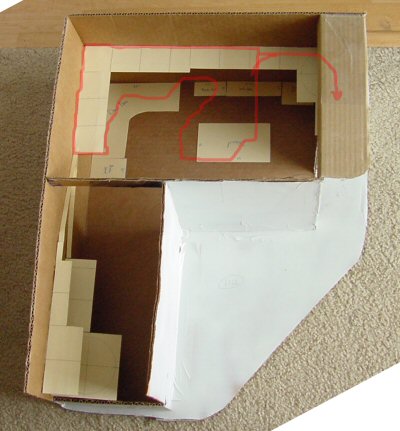 I saw that I'd want to flip the SJC left-right and I could run track out to storage tracks in the closet. Setting an early CAD drawing of the layout into the space I could see I that this plan felt much better. The picture above might make you think I could keep the dual level part at the bottom of the picture but one of the "costs" of this design change was that my desk would no longer fit under so I had to move my desk, my workbench, and several bookcases into the nook.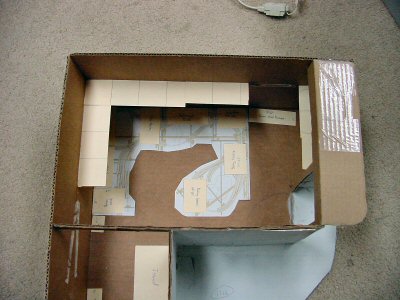 Postmortem: I'm really happy with the choices and my new little nook office is actually really nice and effective.
10 Responses to "The Shelf layout plan – not for me"