Sun 17 Dec 2006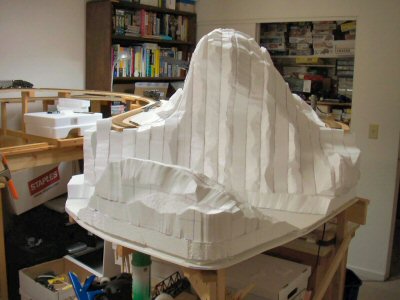 This is taking longer than I would like. I'll talk about this more later but I'm now seeing that building up a layout out of foam may be a good technique but quite time consuming. 
I'm staring to think that building up out of foam has its place but not as the way to build your entire layout.
One area it makes sense is around Crazy Horse Canyon since I have a pretty detailed idea how the terrain will be contoured and it will be nearly all rock castings.
First, I really don't think building up layer cake style works as well as making vertical slices. I see in the December 2006 Model Railroader that Pelle Søeborg also builds this way.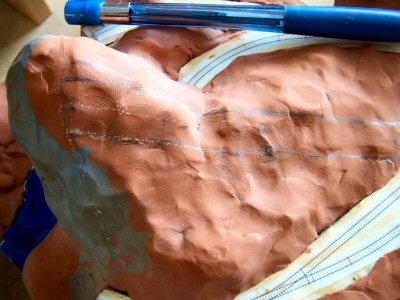 I started by drawing pencil lines on my planning model that I would turn into profile cut pieces of Styrofoam. Next I used a profile gauge to transfer the profile onto a scaled piece of graph paper that matches a 2" square grid.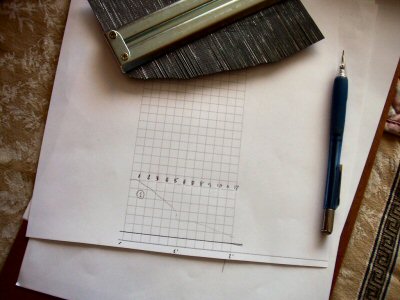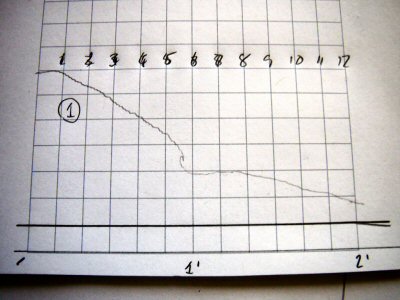 Then I marked my 2" thick 2 ' x 4' pieces of Styrofoam with a 2" grid.
Transfer the contour to the big board.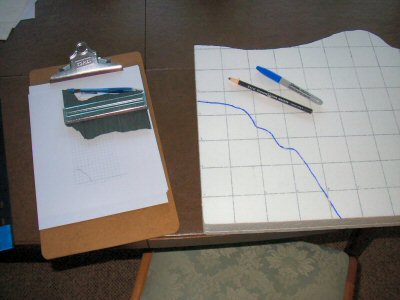 Cut with either a hot-wire cutter or my hot knife. If I can reach far enough I use the wire cutter since it does finer work but if not I use my hot knife which can reach anywhere. Then I place the piece in place.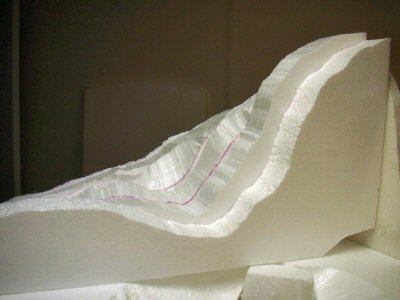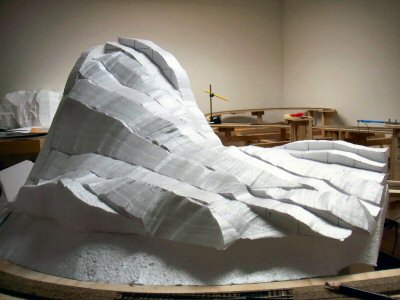 The "back" side of the hill behind the canyon I measured by pressing the contour gauge straight down.
The "front" side of the canyon is mostly vertical and even has an overhang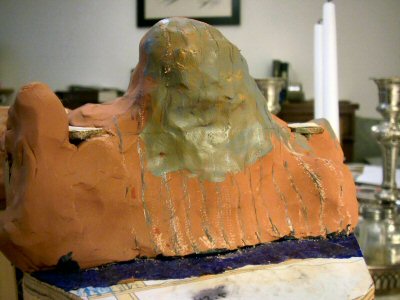 so I pulled off the bit of modeling clay opposite the cliff and measured it by pressing the contour gauge straight into the cliff face.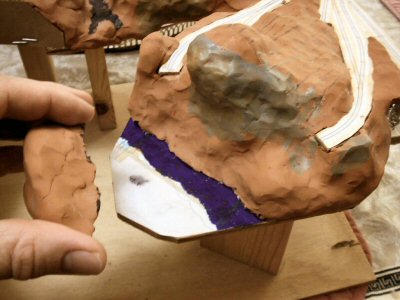 As I add the pieces I place them unglued in position and then go back with a hot wire cutter and trim each piece to more nearly fair into its neighboring slice.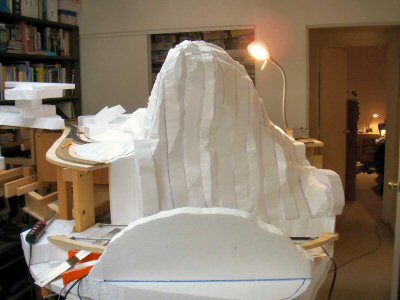 This makes a big mess even when you use hot cutting (although nothing like the mess you make sawing bead-board):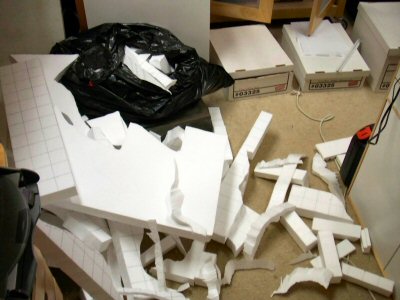 I figure nearly half of the styrofoam you buy ends up as unusable small scraps you have to throw away.