Tue 8 Aug 2006
How has the size of the Model Railroader changed over the last 40 years?
Size in a magazine can be complicated since it is a combination of content plus advertising. However, when times are good there is lots of advertising so the page count should go up. This was certainly true for technology magazines in the 1990′s. I remember when it was starting to look like WIRED magazine was going to challenge the phone book in size.
Then came the Internet/Tech crash and WIRED got very very skinny. MR got a bit slimmer too.
Since 1966 Model Railroader shows 30 years of growth followed by 10 years of shrinking size.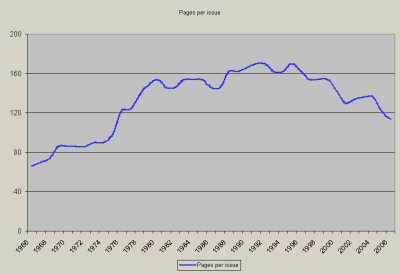 So the size plateaus in the early 1990's and noses downwards around 1996. Now the size of MR is like it was in the late 1970′s. But in the 70′s the magazine was growing. Now the magazine is on a decline. 
I'm sure this tracks to circulation data for MR but does this track to the quality of the issues? Did the quality and excitement inside the magazine stop in the 90s or were external forces to blame?
40 Years of August in Model Railroader – Part 1
40 Years of August in Model Railroader – Part 2
40 Years of August in Model Railroader – Part 3
40 Years of August in Model Railroader – Part 4
40 Years of August in Model Railroader – Part 5
40 Years of August in Model Railroader – Part 5½
40 Years of August in Model Railroader – Part 6
40 Years of August in Model Railroader – Part 7
40 Years of August in Model Railroader – Part 8
40 Years of August in Model Railroader – Part 9